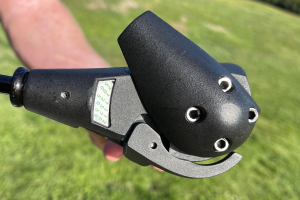 PowerGolf Club
The one and only!
Includes a Headcover, a 3 round play pack ,and 3 EZeeGolf Power golf balls (recommended).
The WORLD'S FIRST PISTON POWERED CLUB is new even better!
Our 2nd Generation, patented PowerGolf Club lets you control the distance, propelling golf balls from 50 to over 200 yards! No swing required.
New Features for 2nd Generation Club:
New model is shorter for better control and now in a glare-resistant black shaft
Grip upgraded with a new designer pleasing appearance
More power through improved technology
Also Included with every PowerGolf Club Order:
3 Free Play Packs (energy source for 3 rounds of golf)
1 Custom head cover